The NEFI Legends Dinner
Tuesday, September 14, 6:30PM-10PM
Reception: Celebrity Room A/B Entrance Hall
Dinner: Celebrity Room A/B
2021 NEFI Legends Awards Dinner to Honor All-Woman Slate of Energy Industry Leaders
The NEFI Legends Awards Dinner has always been one of our association's most popular and well-attended events. It is a formal (black tie optional) dinner-ceremony at which we come together to support those individuals who have made an indelible impact on our industry. This year, there will be an extra-special twist on this always special occasion.
As you may know, 2020 marked the 100th anniversary of women being granted the right to vote. Unfortunately, our event wasn't held last year due to the pandemic. Nevertheless, we still want to acknowledge this important milestone in our nation's history.
NEFI is proud to announce the 2021 Legends Awards recipients:
For New York: NYSEC
Allison Heaney
President, Skaggs-Walsh

For Rhode Island: EMARI
Roberta Fagan
Town Clerk - Jamestown, RI
Former Administrative Team member, Newport Biodiesel
Former Executive Director Energy Marketers Association of Rhode Island

For Maine: MEMA
Susan Ware-Page
Maritime Energy

For Vermont: VFDA
Kelley Tully
President of C&H Transportation
& Vice President Cota and Cota

For New Hampshire: EMANH
Pam Giordano
Valuation Consultant, Cetane Associates
General Manager,
Dodge Oil & Propane / B&L Oil & Propane

For Massachusetts: MEMA
Sandra Farrell
Co-owner, Northboro Oil

For Connecticut: CEMA
Joyce Porto
President, Inland Fuel Terminals

As a reminder, tickets for the NEFI Legends Awards Dinner are sold separately and space is limited, so please make your reservation today.
2021 Legends Awards Schedule
In addition to the handing-out of these awards, the 2021 Legends ceremony will include an open bar, cocktail hour, and multi-course dinner with music and more. The event's chairman and MC will once again be past Legends Award recipient Jim Townsend of Townsend Energy. The ceremony begins at 6:30 and is expected to conclude around 10:00. Please see the full schedule below:
6:30
Cocktail Reception with Open Bar
7:15
Welcoming Remarks from NEFI President Sean Cota
7:25
Dinner is Served (with musical accompaniment)
Introductory Remarks from Jim Townsend
Presentation of Legends Awards (with video slide-show)
9:30
Champagne Toast to All Legends Past and Present
Show Your Support with a Sponsorship or Commemorative Journal Ad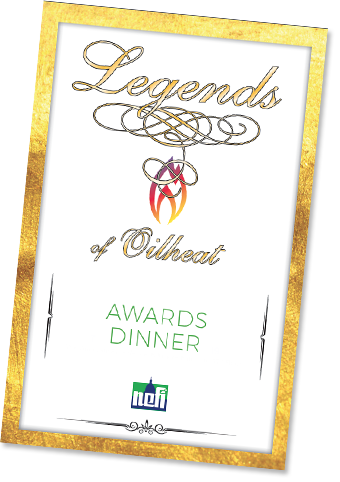 Businesses that serve the liquid heating fuel industry can show their support for our industry, and gain high-level brand visibility in the process, by sponsoring the NEFI Legends Awards ceremony.
Separate sponsorship options are available for the Dinner, Reception/Open Bar, and Journal – an ideal opportunity for vendors that are serious about demonstrating their long-term commitment to our industry. Additionally, even local heating fuel businesses can show their support by taking out an ad in the Commemorative Journal, which will be distributed to each diner in attendance.
Connect your brand with one of our industry's most treasured and longest-running awards ceremonies.
Click here to Sponsor
To advertise in the NEFI Legends Journal, contact David Heiser: 215-681-1772 or dheiser@primediany.com